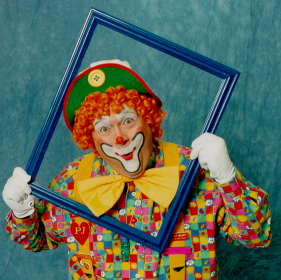 Everyone Loves a Clown!
Ladies and Gentlemen ... Boys and Girls ... Children of All Ages ... please draw your attention to the Center Ring ... now ready to perform for your event is ...
... the World's Greatest
... Florida's Finest
... Orlando's Only
... OK ... OK ... but he is really, really funny ...
PJ the Clown
PJ can perform as either a clown or as a magician for your party, convention, restaurant, church, school, company picnic or other corporate event.
In addition to individual gigs, PJ can be seen regularly at
Winter Park Village - Winter Park, FL
Don Pablo's Mexican Kitchen - University Blvd. near UCF
Johnny Rocket's - Waterford Lakes shopping center
PJ entertains...
for all ages - small children through senior citizens
in all forums - stage shows, birthday parties, restaurants, conventions, picnics
with a variety of skills - magic, balloon art, face painting, juggling
To goof around with PJ, call 407-975-6577 (office) or 407-399-6369 (cell).
Until then, PJ says...
"Tickle Someone's Funny Bone Each Day"